Office 365 allows you to work with many Microsoft applications from the web and offers cloud storage
July 15, 2020 UMail and Office 365 security upgrades — learn more
All current University of Utah students, staff, and faculty are eligible to use a University of Utah Office 365 account. Begin by logging in with uNID@umail.utah.edu and follow the instructions below.

About
Office 365 combines Microsoft Office applications and the cloud to create a more convenient, collaborative, and consistent work and file managing platform.
The University of Utah has partnered with Microsoft to provide free installation of Office 365 for all current students, staff and faculty.
Note: Outlook, Calendar and Skype for Business are NOT available in Office 365. Please continue to use those as you normally do through your UMail account.
If you have a managed computer, you will need your desktop support team to install it for you.
1. Go to o365cloud.utah.edu.
2. Click the large "LOGIN" button near the top right side of the page.
3. You will be directed to a "Sign in to Office 365" login page. Sign in with your uNID@umail.utah.edu and select Sign In.
4. You will then be redirected to an "Authentication Required" webpage or dialog box, depending on your operating system (OS) and browser. Enter enter your uNID and CIS password. You may be prompted to authenticate with Duo 2FA.
5. You will be directed to the Office 365 installation page. Select Install Now to install Office 365.
After installation and for future use, follow the first four steps listed above.
Features:
Latest versions of Microsoft applications
Access files on any device
Cloud access
Simplified compliance
Advanced IT controls
1 TB of Storage
What you can use in office 365: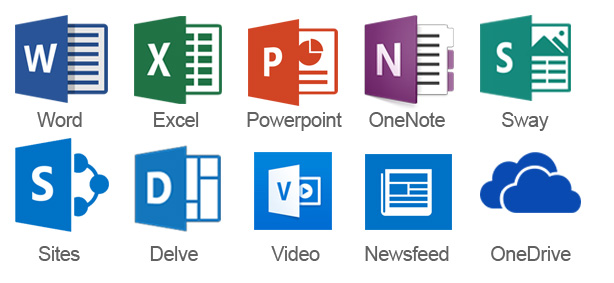 ---
Note: You CANNOT use Outlook, Calendar, Tasks and Skype for Business in Office 365. You should continue to access those applications through your UMail account.

Get Started
User Guides and How-to Documentation
UIT Knowledge Base:
Microsoft Get Started:
Training
Support

---

---
FAQ
Active University of Utah staff, faculty, and students and active University of Utah Health staff, faculty, and students are eligible to use Office 365. Affiliate accounts are not eligible at this time.
You can install Office 365 by using the Login button and following the instructions on the o365cloud.utah.edu/ site.
Because Microsoft applications are familiar to many people, Office 365 is easy to use and provides cloud storage. It is easily accessible to university students, staff, and faculty.
All eligible faculty, staff, and students are allocated 1TB of storage.
The file size limit for uploading is 2 GB.
You can access Word, Excel, PowerPoint, OneNote, Sway, OneDrive, Newsfeed, Sites, Tasks, Delve, and Video.
You cannot access Outlook, Calendar and Skype for Business through Office 365.
Since the University of Utah already uses UMail as the primary email source, we cannot provide university email in any other place. You can already access Outlook and Calendar through UMail, and you can download Skype for Business from
software.utah.edu
.
You can download Office 365 on five devices.